The Apollo Theater Presents
The Baltimore Center Stage and Congo Square Theatre Company Production
in association with Mosaic Theater Company
Twisted Melodies

A Donny Hathaway Story
Written by and starring Kelvin Roston, Jr.
Directed by Derrick Sanders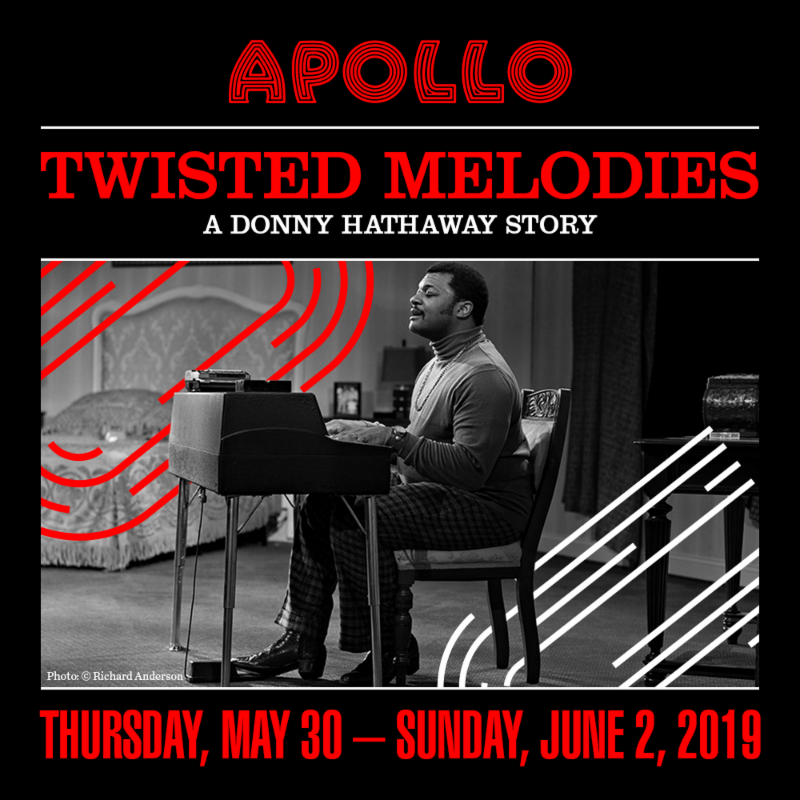 This powerful one-man show is based on the life of '70s soul singer and composer Donny Hathaway, perhaps best known for his duets with Roberta Flack. Twisted Melodies is an immersive and crushing play about the brilliant musician's compelling inner struggle. Torn between the muses that inspire him and the mental illness that torments him, Hathaway evaluates the choices in his life in a gripping performance by Kelvin Roston, Jr.
Performance Schedule:
Thursday, May 30, 8 PM -- 
Black Arts and Culture Community Night!
Friday, May 31, 8 PM
Saturday, June 1, 3 PM & 8 PM
Sunday, June 2, 3 PM
Tickets start at $55
Save 15% off regular ticket prices when you use code WTGP
There are three easy ways to purchase tickets:
Online: Click here and enter code WTGP.
By phone: Call Ticketmaster (800) 745-3000 
and mention code WTGP.
In person: Present this offer or mention code WTGP 
at the Apollo Theater Box Office,  
253 W. 125th Street, New York, NY 10027.
Half Off for Harlem Residents:
The Apollo Theater's Half Off for Harlem promotion 
is back for our final production of the season 
Twisted Melodies: A Donny Hathaway Story. 
Harlem residents, employees, and business owners can save 50% on tickets to this moving performance. 
Half Off for Harlem tickets can be purchased in person 
at the Apollo Theater Box Office. 
Ticket buyers must provide proof of residence 
or work ID to save.