- The Wallace Roney Orchestra © Kevin R. Mason -
By Sheila Horne Mason - 
From April 20 to 23, 2017, Newark's New Jersey Performing Arts Center (NJPAC) held Wayne Shorter Weekend in tribute to one of Newark's own, iconic saxophonist / composer Wayne Shorter.
This music-filled weekend included concerts by the Wallace Roney Orchestra, Cécile McLorin Salvant with Sullivan Fortner and the Emmet Cohen Trio, a tribute to Weather Report, and a one-on-one seminar/concert with Christian McBride and Esperanza Spalding, which all led up to a performance starring the Wayne Shorter Quartet and special guests Herbie Hancock and Gretchen Parlato.  The weekend was co-sponsored by the Institute of Jazz Studies at Rutgers University-Newark.
Early in his career, Shorter became known as "The Newark Flash" due to the amazing dexterity that caused his fingers to blur when he played. In the intervening years, Wayne Shorter went on to have an extraordinary career that included working with some of the biggest names in jazz, like Miles Davis, Joe Zawinul, Art Blakey, Maynard Ferguson, John Coltrane, Sonny Rollins, Max Roach, Horace Silver, and Ron Carter. Wayne's numerous accolades include NEA Jazz Master, several GRAMMY Awards, Honorary Doctorates from Berklee School of Music and New York University, and recognition from DownBeat and the Jazz Journalists Association.
Wayne Shorter's Universe – A Concerto for Miles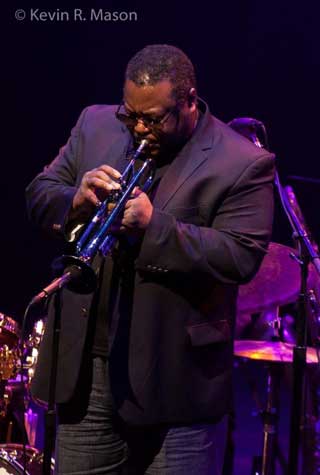 The four-day tribute began on Thursday, April 20, with a preview of the upcoming documentary Universe. The documentary is about a composition Wayne Shorter originally wrote for Miles Davis, but was never performed. Shorter eventually gave Universe to Davis' protégé, trumpeter Wallace Roney, along with the blessing to record and perform it. Before the concert started, a clip from the documentary featured Wallace speaking about his career. He talked about loving music so much that, initially, it didn't occur to him that he could make a living playing jazz until a high school teacher encouraged him. Roney reminisced about what a great mentor Miles Davis had been, and said that receiving Wayne's unrecorded work was like "discovering the Dead Sea Scrolls." He described his musical ambitions, saying, "I'm not shooting for an arc. I am shooting for a straight line up to infinity." The full documentary is expected to be released in 2018, and it looks like a must-see for jazz lovers.
Immediately after the documentary preview, Wallace Roney came on stage and thanked the audience for coming, and said of the project, "It has been a labor of love." The first song in the set was "Devil May Care," followed by the sweeping, 15-minute title song, "Universe," which magnificently ran the gamut of human emotions. Roney was accompanied by pianist Patrice Rushen, bassist Buster Williams, drummer Lenny White, and a superb orchestra of musicians that included multi-instrumentalist Patience Higgins, trombonist Steve Turre, and tenor saxophonist Mike Lee, all conducted by arranger/composer Robert Sadin.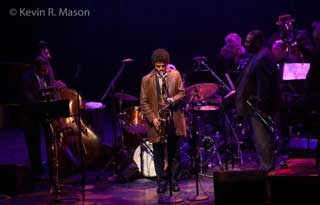 Throughout the concert, Wallace Roney continued to display the fulfillment of all the early promise Miles Davis saw in him, and he's also paying it forward by mentoring upcoming young musicians. One of Roney's most recent protégés, the talented 17-year-old saxophonist Emilio Modeste showed his skills on soprano and tenor saxophone on several numbers.
This show was filled with uncovered musical treasures, and ended with a spectacular encore, "Who Needs Forever," which included guest vocalist Dawn Jones. Wayne Shorter wrote this song for the late trumpeter Lee Morgan, who left this world much too soon, before he ever got to play the composition. Wayne Shorter's Universe – A Concerto for Miles, was a great beginning to the Wayne Shorter Weekend.