Harlem Week 2018 - 
Impact had an amazing Harlem Week experience. It began with letting everyone know at Great Day in Harlem at Grants Tomb that what we do now matters forever. Impact made such a great impression that WBLS posted us on their Instagram.
It continued with IMPACT's amazing Opportunity during the Harlem Weekend Festival to be apart of the tribute to music icon Janet Jackson.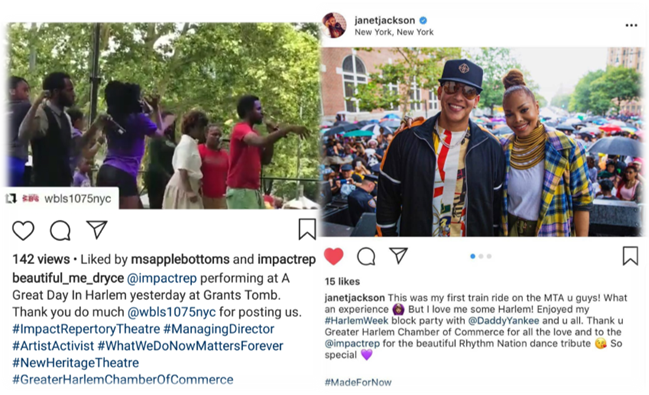 Impact created our "Harlemized" Artist Activist version of Rhythm Nation with added lyrics such as:
"Like Sojourner you told the truth, Like Harriet you freed the youth, Underground railroad music is your tool, Like Cleopatra you rule, Like Nzinga you conquer, Luanda to Rwanda, Original Wakanda, Spittin my Poetic Justice, There's no justice for us it's just us, Brothers and sisters follow what you're sayin Cuz you're the president of our rhythm nation"
Impact was also apart of the Harlem Festival parade and Children's Festival. 
During this season the members had to come out to intense weekday rehearsals within a short period of time. As a thank you our Director of Programming offered tickets through another program she works with to Quassy Amusement Park where we enjoyed some fun in the sun.