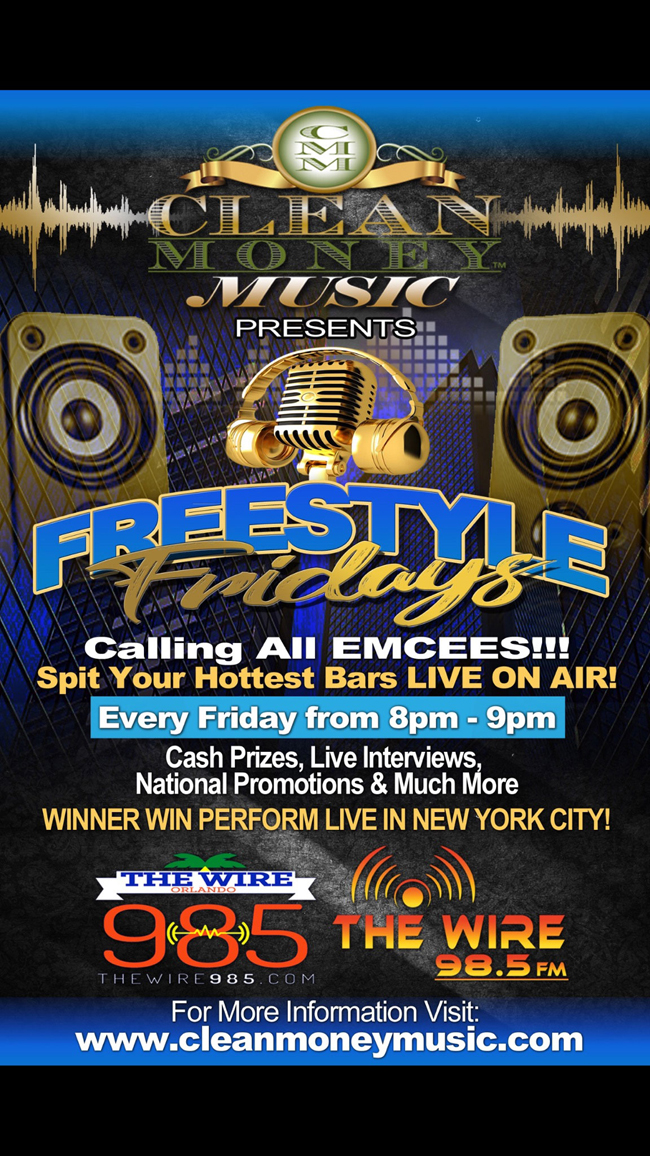 CALLING ALL HIP HOP HEADS!
Do you have what it takes to win an all expense paid trip to perform LIVE in front of thousands in New York City?
If you answered yes, here's your opportunity to show off your skills, compete against the best of the best and gain national recognition. 

Its Freestyle Fridays exclusively on Orlando's hot new urban hip hop station 98.5FM The Wire. 
By simply registering on NewWorldStation.com,
you will be invited to come to the station and spit your hottest bars LIVE on the air.



Chance to Perform at Clean Money Music International Showcase
in Harlem / NYC in August during Harlem Week 2019, the largest outdoor festival in New York City, 
Now here's the challenge: 
Lyrics must not contain the N,B or H words. Do you still have what it takes?
If so, see official rules and regulations below. 98.5FM The Wire is a community based radio station that believes in serving it's listening and viewing audience. It is extremely important that each contestant follow these rules and regulations.
Contestants must be at least 17 years old to participate and accompanied by a parent or legal guardian. Personal ID will be required.
If you are 18 or older, you are not required to be accompanied by a parent or guardian. Personal ID is required. 
Contestants must use appropriate language while live on the air. The terms nigga, bitch, hoe or the use of profanity of any kind will cause disqualification. No exceptions! 
Each contestant is allowed to bring maximum 1 guest to the radio station. 
Contestants are only allowed one entry into the contest.
So You Got Bars?
For more information email us at: This email address is being protected from spambots. You need JavaScript enabled to view it.